Industrial Spray Painting
Medium and small machine components blasted, primed and top coated at Derrick.
EXPERIENCE AND QUALITY WITH VERSATILITY
Our very large, environmentally controlled paint booths give us the ability to apply many different single or multi-coat paint systems to various types of large, medium, and small industrial parts, components, and heavy equipment.
PAINT SYSTEMS
COATING MANUFACTURERS

Shop Prime
Enamel
Zinc/Epoxy/Urethane
Polyamide
High Heat
Nuclear Grade
High Performance Urethanes
Water Based

Sherwin Williams
Carboline
International
Ameron
PPG
DuPont
Tnemec
Axalta
WE ARE THE INDUSTRIAL SPRAY PAINTING EXPERTS
Derrick has been providing industrial painting services for over 45 years. We are experienced with most wet spray application methods as well as most major paint manufacturer's products and capable of meeting the most stringent coating applications. We work closely with our customer's inspectors to ensure that all of their requirements and specifications are met.
Quality Standards
All of our spray areas are environmentally controlled, take advantage of fantastic technology that controls curing cycles, and frequently use the highest performance products We apply your specified paint systems to your standards, and are very familiar with the most common high-performance paint systems including:
Zinc/Epoxy/Urethane
Polyamide
High Heat
Water Base
Shop Prime
Enamel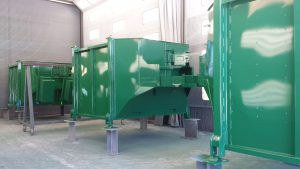 DUAL ZONE PAINT BOOTH
Our massive dual zone paint booth is 26 ft. wide x 23 ft. high x 60 ft. long and features two, independent 4.2 million BTU gas fired Air Make Up Units. This gives us the option to operate the painting booth as two separate 30 ft. long painting booths, or one continuous, 60 ft. long paint booth.
The "Smart Sense" control panel installed by Future Cure controls curing cycles and temperatures up to 170 degrees F.
| | |
| --- | --- |
| Spray Areas | Size (W x H x L) |
| #1 | 40'10" x 12′ x 38′ |
| #2 | 14′ x 12′ x 50′ |
| #3 | 14′ x 12′ x 15′ |
| #4 | 26′ x 23′ x 60′ |
Heavy Manufacturing
Steel Fabrication
Machining
Automotive
Aerospace
Heavy Transportation
Industrial Construction
Power Generation
Petro-Chemical
Mining
Oil & Gas
Food/Beverage/Drug
Military/Defense
Agriculture